FLASH SALE! Right now you can get the Essential Oils & Insomnia Binder for just $17
Ready to get a good night's sleep with the use
of essential oils? I can help!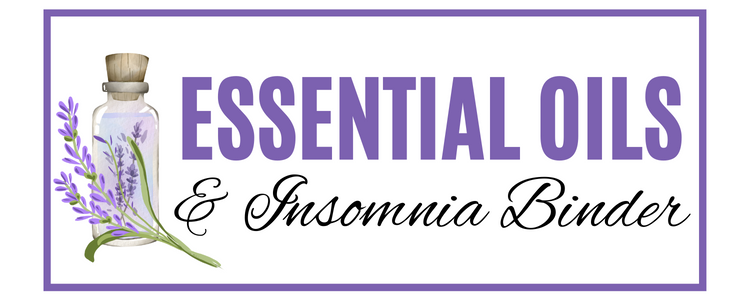 Printable recipes, charts, facts, and more to help you to start getting the best night's sleep possible!
Reclaim Your Health & Sleep!
Discover tried and true essential oils and the info you need to help you start sleeping better!
Make Your Home a Happier, Healthier Place!
Introducing the Essential Oils & Insomnia Binder!
FOR A LIMITED TIME GET THE AMAZING PRINTABLE ESSENTIAL OILS & INSOMNIA BINDER FOR JUST $17!
Essential Oils to calm the mind and body.
Tips and recipes that will support different organs, allowing you to sleep better!
Everything you need to keep your essential oils organized such as inventory sheets, reorder lists, etc.
Tools to support you on your essential oil journey to better sleep such as daily essential oil routines, dilution charts, etc.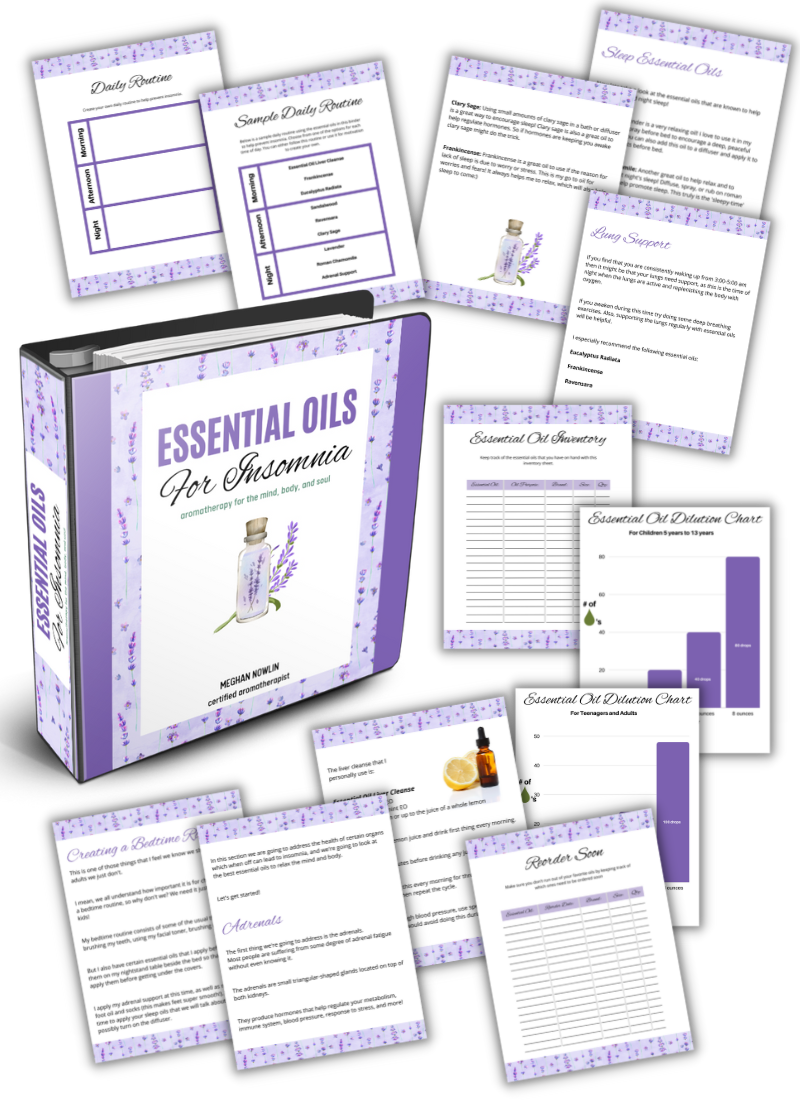 "Thank you so much! I am going to be using your website quite often. Thank you for your vast knowledge of essential oils."
~Charlotte
The Essential Oils & Insomnia Binder is designed to help you sleep better!
Just imagine if you could…
Establish a nighttime routine to help you fall asleep easily.
Feel confident that you know exactly which oils to use & diffuse for better sleep.
Never run out of oils again since you have a tool to help you keep track of which oils you have on hand and which oils you need and want to order.
Create a daily essential oil habit for yourself that supports your sleep, health, emotions, productivity, and more!

Discover a full night's sleep by nourishing the organs that might be keeping you awake.

"My wife and I are always looking into aromatherapy and essential oils to find natural alternatives for man made products. Thanks for the tips!"
~Arthur
Hey there! I'm Meghan…
A certified Aromatherapist and health coach. I've been helping clients as an aromatherapist for over a decade and have seen many amazing results that essential oils can bring!
I created the Essential Oils & Insomnia Binder to help those that are struggling to fall asleep, and stay asleep!
As an Aromatherapist and a health coach, I understand that the body as a whole needs to be addressed. Essential oils nourish the body as a whole. Relaxing alone is not enough to start sleeping when you struggle from Insomnia. In this binder we cover the different organs that might be keeping you awake and how to bring them into balance. We discuss how to ground and balance the body during the day as well as at night to feel your best and sleep a full night's sleep!
I want to help you to achieve better health and better sleep. A well rested you is a happier you! So get your Essential Oils & Insomnia binder, pull out your essential oils, and lets start sleeping better!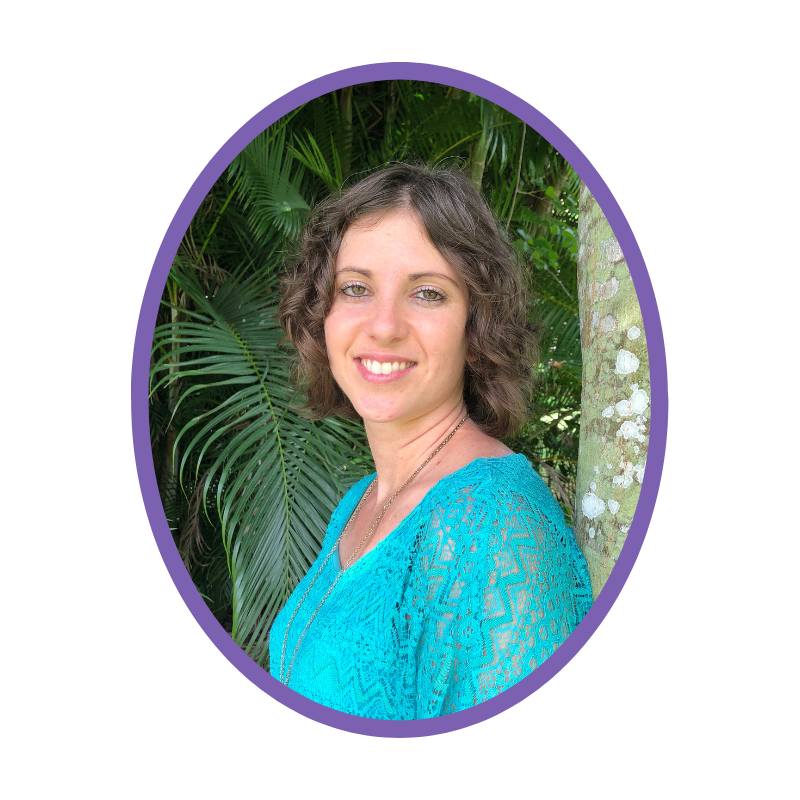 Here's a Peek Inside the Essential Oils & Insomnia Binder…
It contains 31 pages of information as well as charts, inventory sheets, routines, and more!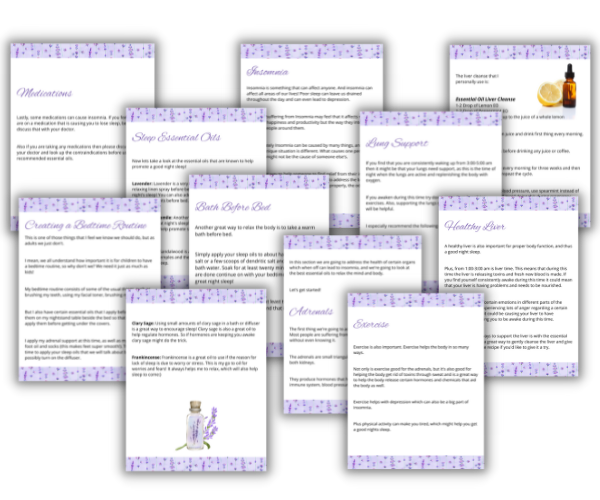 Routines & Inventory Sheets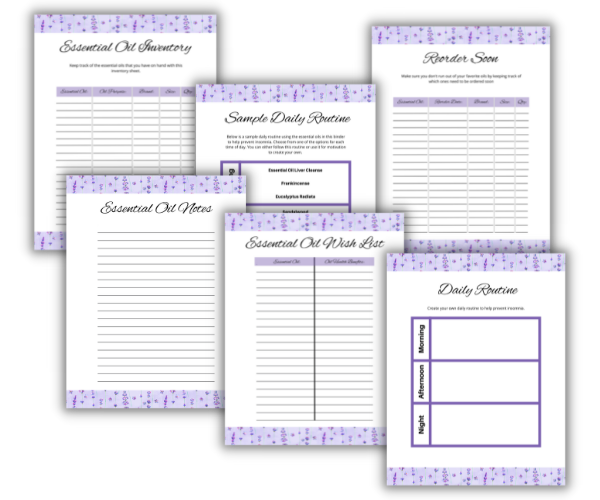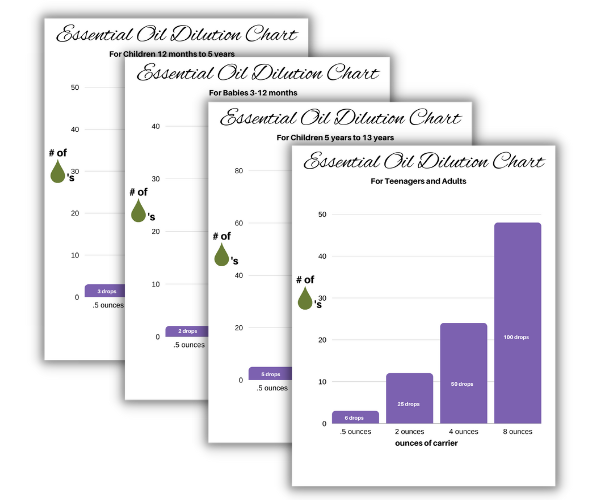 "Thank you for inspiring others!"
~Karen
Frequently Asked Questions
WHAT IS INCLUDED WITH THE ESSENTIAL OILS & INSOMNIA BINDER?
The Essential Oils & Insomnia Binder is packed with info to help you sleep better!
It also contains recipes, daily routines, inventory sheets, wish lists, dilution charts, and notes to help on your essential oil journey!
WHAT WILL I GAIN FROM THIS BINDER?
The Essential Oil Diffuser Binder will help you:
✔ Nourish the body as a whole to so that you can sleep better
✔ Become healthier and happier as you gain the benefits that each oil can offer
✔ Keep your oils organized so that you know exactly what you have and what you need
✔ Set a daily routine and get in the habit of using essential oils daily
IS THIS A BOOK?
It's not just a book but an entire bundle of resources, recipes, and charts designed to help you know what to do in order to get a good night's sleep. Please keep in mind that all materials are delivered digitally in PDF form. 
HOW SOON AFTER PURCHASE WILL I RECEIVE MY BINDER?
You should receive your purchase (almost) immediately. Allow up to approximately 10 minutes for it to appear in your inbox. It will be delivered to you digitally via the email address you provide at checkout.
If you don't see it, be sure to check your spam or promotions folders, and if you still don't see it, please contact me at [email protected] immediately.
HOW DO I KNOW THE ESSENTIAL OILS & INSOMNIA BINDER IS RIGHT FOR ME?
The Essential Oils & Insomnia Binder is for everyone that wants to be healthier and get a better night's sleep. If you're new to essential oils, this binder is for you. If you've been using essential oils, this is also for you. Everyone, no matter their experience, will benefit from this binder!
IS THIS BINDER REALLY WORTH THE COST?
In a word- yes. The Essential Oils & Insomnia Binder gives you WHAT YOU NEED to start sleeping better, as well as what you need to be overall healthier and happier.
You will feel confident in the benefits you are gaining and will never need to wonder if you are using the right oil for the benefit you desire!
THAT'S A LOT OF RESOURCES- WHERE DO I BEGIN?
I recommend that you start by reading the information so that you know which oils and supplies you will need. Then move on to the the inventory sheets. Record which oils you already have and decide which oils you need to order to achieve the benefits listed in the binder.
WILL I NEED TO PRINT IT?
Yes, it will need to be printed. You can print it at home, at your local library, or through a store like Staples.
WHAT IS YOUR RETURN POLICY?
Because this is a digital product, I don't offer a refund. But if you are unhappy for any reason, please contact me immediately and I will do everything I can to make you happy.
Ready to Get Started?
  Get the Essential Oils & Insomnia Binder for just $17! Simply click the button below for instant access.